Published: 31 May 2015
by
Last updated: 31 December 2018
Raspberry Pis are popularly being used as stand-alone media centres, task schedulers, desktops, etc. For these types of uses, these computers will need some form of protection. This post features 16 Raspberry Pi model B cases available in South Africa.
This is an ongoing post. It is updated at least once a year. Please suggest corrections, explanations, etc. in the comment section at the bottom of this page and please report dead links or removed items.
Apart from pure protection, depending on its purpose, a good case is also aesthetically pleasing, small enough to hide easily and has enough space to mount additional accessories. For South Africans, these are often not the major concerns, but more the availability and (often) the price. A protective case is but one of the accessories you will need for a Raspberry Pi.
Note that the Raspberry Pi model A and model B have different ports – so they will need different cases. The Raspberry Pi 2B and Raspberry Pi 3B/3B+ are all model Bs) The cases featured here are all for model Bs.
DesignSpark Professional Raspberry Pi cases
DesignSpark brings us some strong, traditional Professional cases made from ABS for the Raspberry Pi. This range includes four polished colour options namely black, white, red and clear/transparent.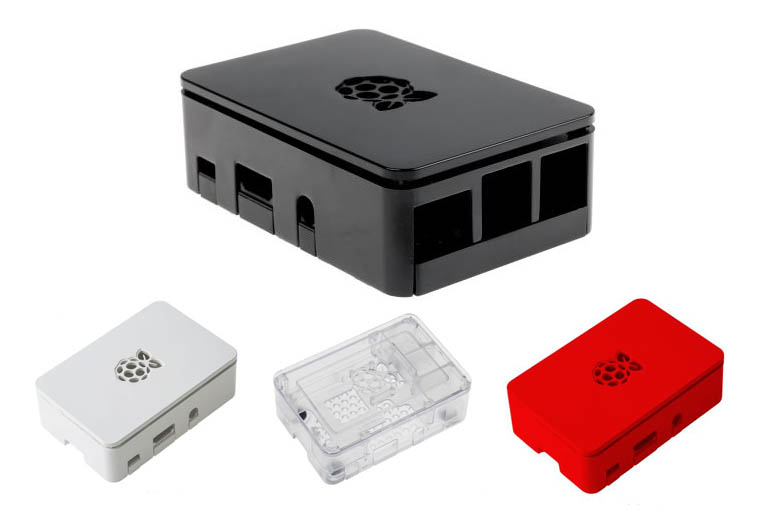 The DesignSpark Raspberry Pi cases are strong and easy on the eye. It is branded with the Raspberry Pi logo. The three pieces snap together and don't need tools or screws. The design allows the top to be removed allowing quick access to internal GPIO connections. All four these Professional cases are available from RS Online and some of them are available from PiShop.
The official Raspberry Pi cases
RS Online, PiShop and various other online suppliers also stock the official Raspberry Pi cases. They are available in white/red and black colours.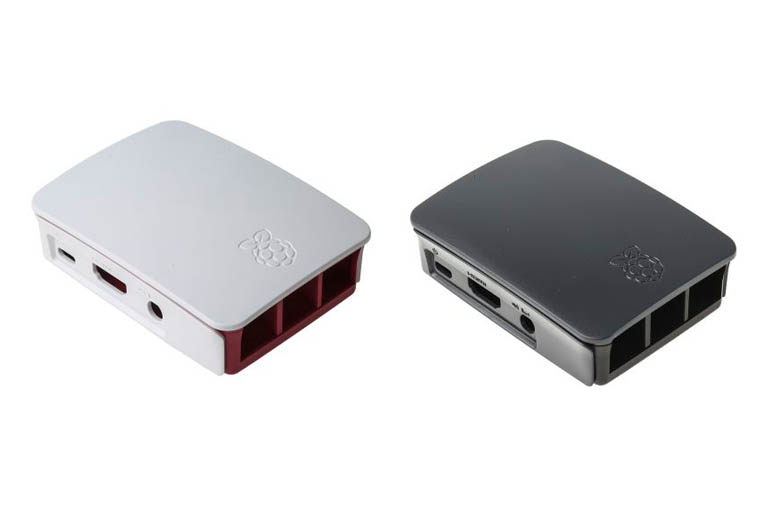 The official Raspberry Pi cases are stylish and lightweight and are made from high quality moulded plastic. It is also branded with the Raspberry Pi logo on the top. These cases consist of five pieces which easily snap together without the need for any tools or screws. The design allows the sides and top to be removed allowing quick access to internal GPIO connections and interfaces.
Multicomp 
Pi-BLOX cases
If you're into LEGO® bricks, the Multicomp Pi-BLOX cases are just the thing for you. These LEGO brick compatible cases come in four colours (black, white, red, yellow, blue) and stack top and bottom on standard LEGO fixings. Also see the plastic brick solid colour palette if you're into LEGO bricks.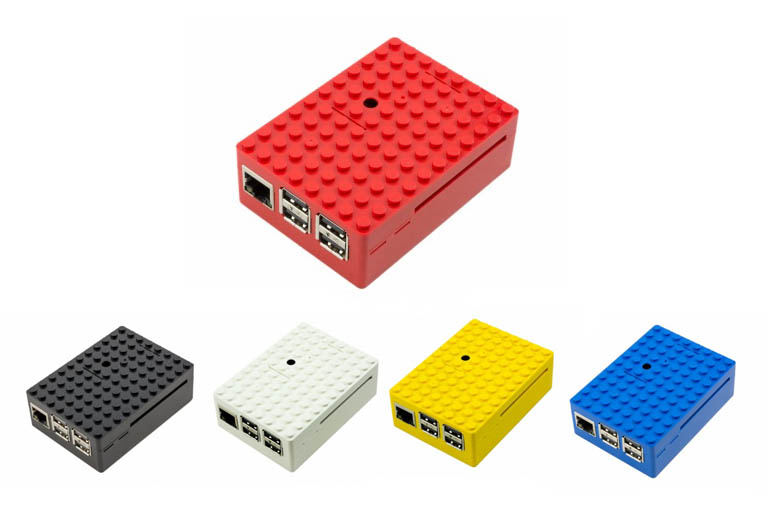 The Multicomp Pi-BLOX cases also feature all the necessary openings for connectors and ports and include mounts for the Pi camera, which can be fitted inside of the case with holes in the lid for the camera lens and flash.
These cases are available from PiShop (black, white, red, yellow, blue).
LEGO, the LEGO logo, the Brick and Knob configurations and the Minifigure are trademarks of the LEGO Group, which does not sponsor, authorise, or endorse this website.
Pimoroni Pibow Raspberry Pi cases
Pimoroni offers funky, colourful, "hackable" Raspberry Pi cases where the board is visible from the outside. The series includes Pibow, Pibow Coupé and Pibow Timber (for older Raspberry Pis).
Variations that are currently available in South Africa include the Pibow Rainbow, the Pibow Coupé Red, Ninja, Flotilla, Royale and Tangerine.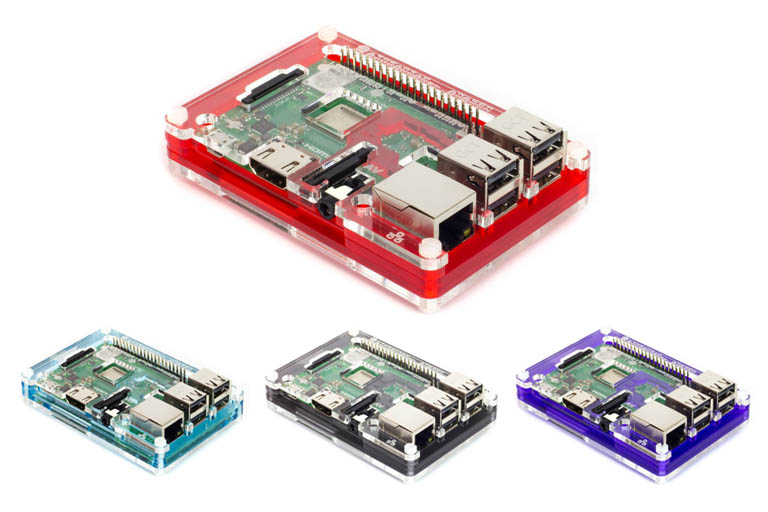 Generic cases
The ABS Case for the Raspberry Pi Model Bs is a very basic and budget, but in my opinion, quite a sleek-looking rounded-edged case.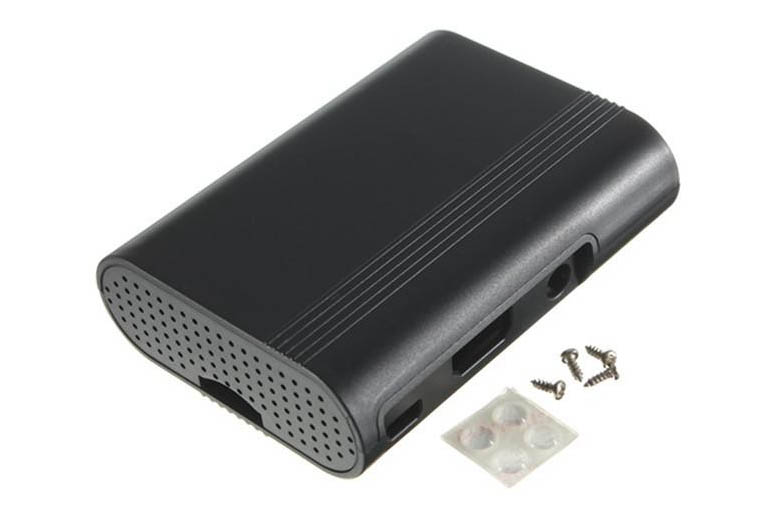 The cases consist of four pieces and assembling using screws and a screwdriver will be required. Note that this case does not have an opening for the Raspberry Pi camera module. Generic cases are available from PiShop, Takealot and BangGood.