Published: 18 January 2021
by
Visual Studio Code has just-enough functionality to make it great for coding projects. This post lists the must-have VS Code extensions for web developers.
This is an ongoing post. Please suggest corrections, explanations, etc. in the comment section at the bottom of this page.
Introduction
With its basic, but powerful functionality, Visual Studio Code (or VS Code) is a popular choice for web developers. Even though there is little wrong with its ability to handle HTML, CSS, JavaScript and even PHP, there are some additional, must-have VS Code extensions for web developers.
Installing VS Code extensions
In Visual Studio Code, extensions are either added in the Extensions sidebar or can be installed from the VS Code Marketplace. By selecting the Extensions icon from the Action bar, the Extensions sidebar will open. Here you can toggle between installed and popular (non-installed) extensions.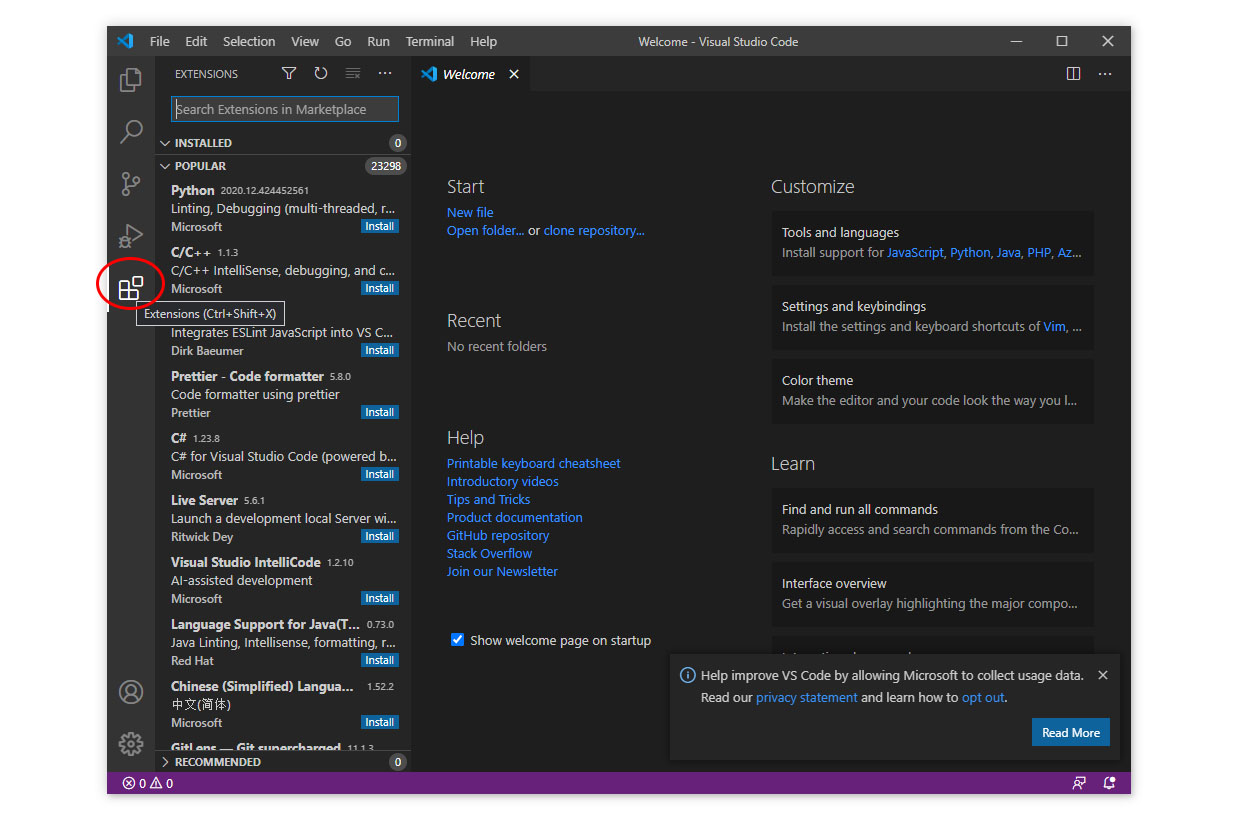 Desired extensions can be chosen from the list and/or searched for by using the search bar on the top of the Extensions sidebar. Extensions can also be searched for and installed from the Visual Studio Code Extensions Marketplace.
More information, such as the description, version, number of downloads and star rating can be obtained by clicking on the desired extension.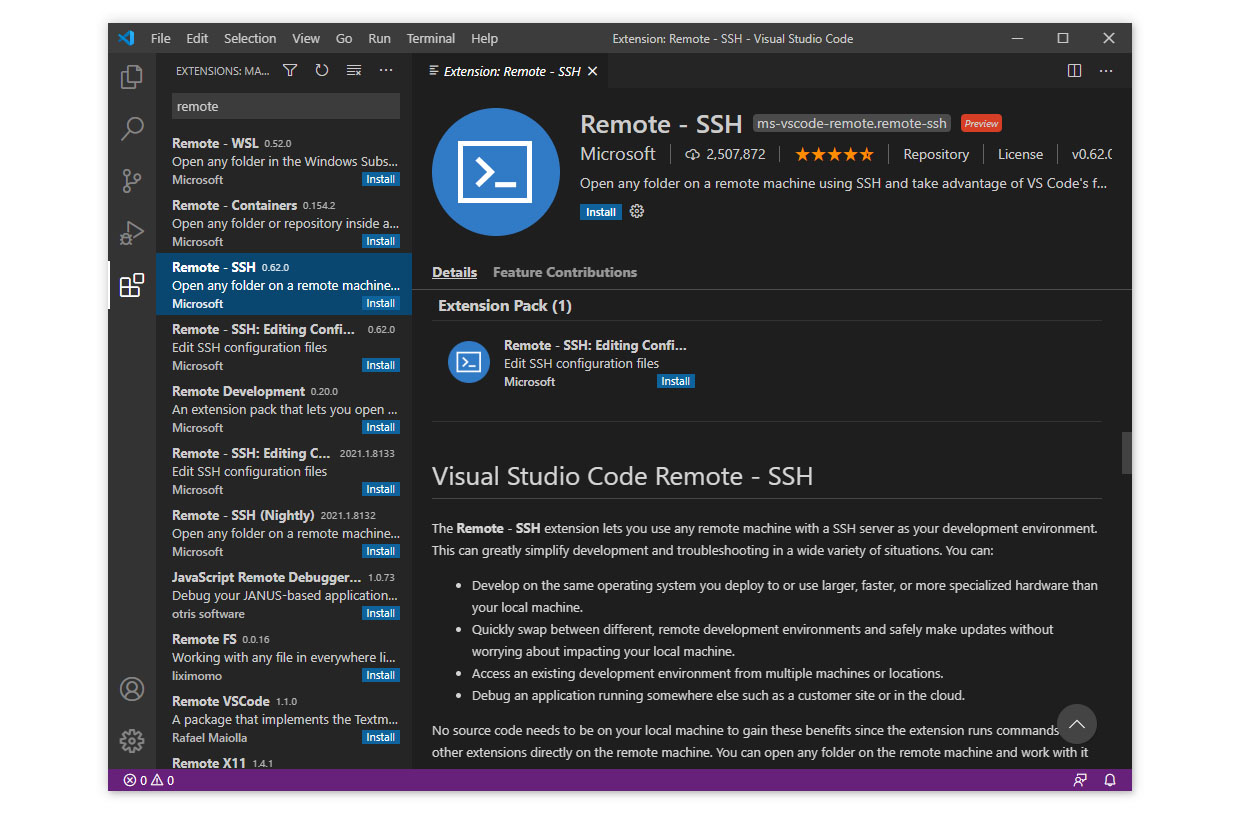 Extensions are installed/uninstalled by clicking on their respective buttons. Some extensions will need VS Code to be reloaded.
Remote-SSH extension
Remote-SSH is a free Microsoft extension allows VS Code to connect to remote locations using SSH. It can be searched for by using the word "remote".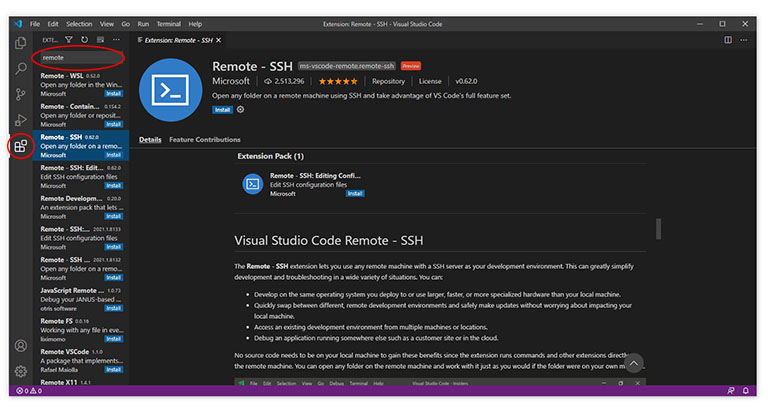 At the time of writing, the Remote-SSH extension was at version 0.62.0, had over 2.5 million downloads, and a five-star rating.
After the Remote-SSH extension has been installed, a Remote Explorer icon will appear in the VS Code Action Bar. From here, new remote connections can be configured.
Bracket Pair Colorizer extension
The Bracket Pair Colourizer extension by CoenraadS is a free extension that creates coloured bracket pairs for nested elements. This comes in quite handy when writing nested CSS, SCSS and JavaScript.
As long as the coding area is happy with the content, it doesn't matter what type of brackets are being used. The colouration of matching brackets can significantly help coders to keep track of their code.
At the time of writing, the Bracket Pair Colorizer was at version 1.0.61, had a 4.5-star rating and over 4.3 million installs. There was also mention of version 2 that is in the making. It can be searched for by using the word "bracket pair" in the Extensions search bar.
Live Server extension
Live Server is a Visual Studio Code extension made by Ritwick Dey. This extension creates a local development server with a live reload feature for static and dynamic pages — perfect for smaller coding projects.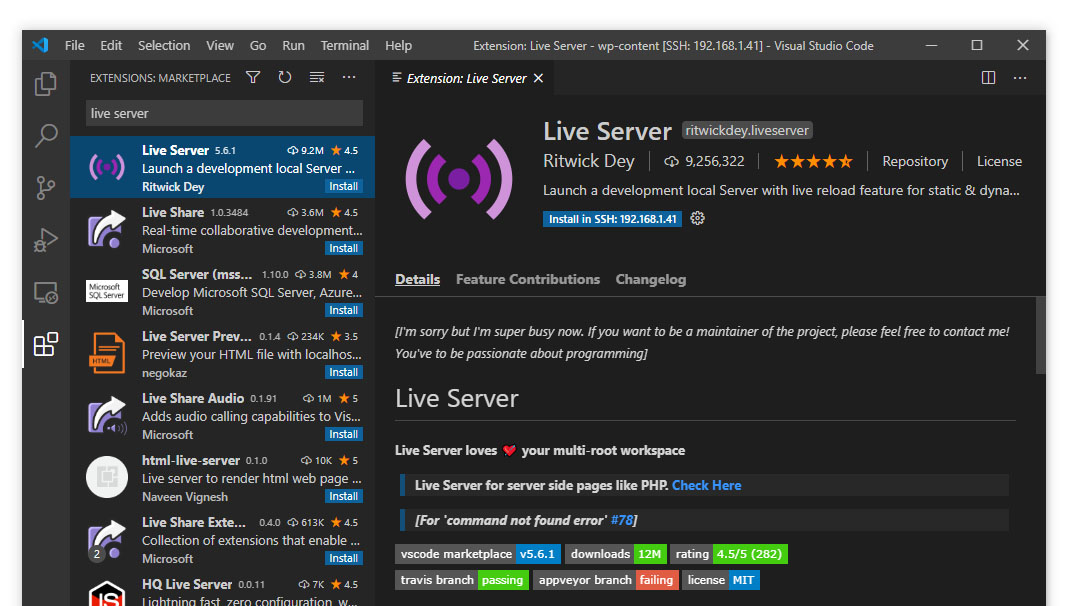 After the Live Server extension has been installed, a working folder or Workspace needs to be created first. After this is done, there will be a little "Go Live" button on the Status bar on the bottom of the screen. Each Workspace will have its own live server.
Note that individual files will not open correctly with File Server, the working directory needs to be opened instead.
By clicking this button a web browser with the project will launch. Each time changes has been made to the any of the files in VS code, the web browser will update automatically.
Prettier Code Formatter extension
Prettier Code Formatter (or Prettier) is a Visual Studio Code extension that reformats code to a consistent, nested style. It parses and re-prints code with rules that take the maximum line length into account, wrapping code when necessary and adding appropriate space lengths.
Features also include adding semi-colons at the end of code, replacing double quotations with single quotations, etc.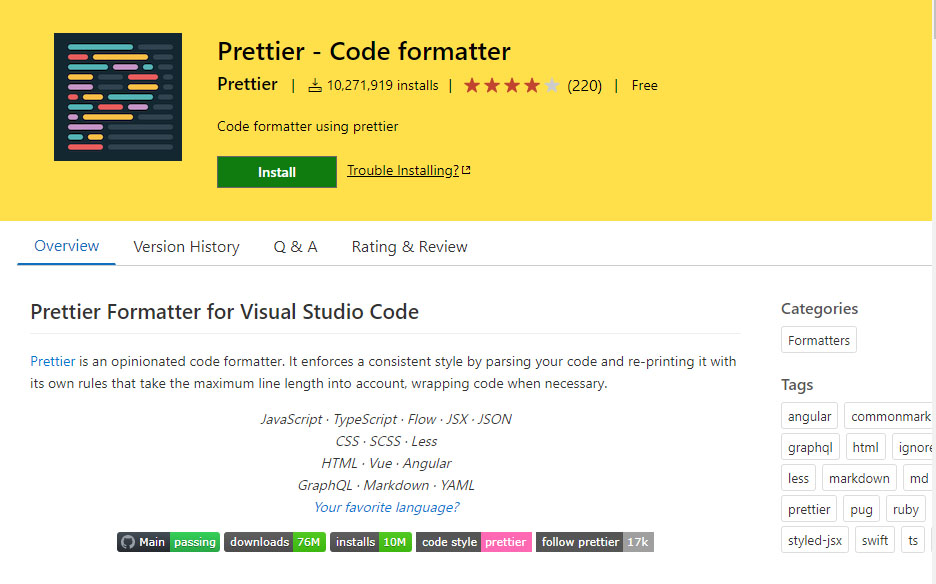 Prettier works with any programming language and code formatting take place automatically when the file is saved.
Another nice feature about Prettier is that the default settings can be manually overwritten by using a configuration file.
At the time of writing, it was at v5.8.0, had more than 10 million installs, a 4 out of 5 star rating.
Auto Tag Rename extension
Auto Tag Rename is a VS Code extension by Jun Han that renames closing HTML tags according to their respectful opening tag.
Unlike the Auto Close Tag extension (by the same author – see below) it does not automatically create closing tags. This means no more searching for, or forgetting, the closing tag when the opening tag has been renamed.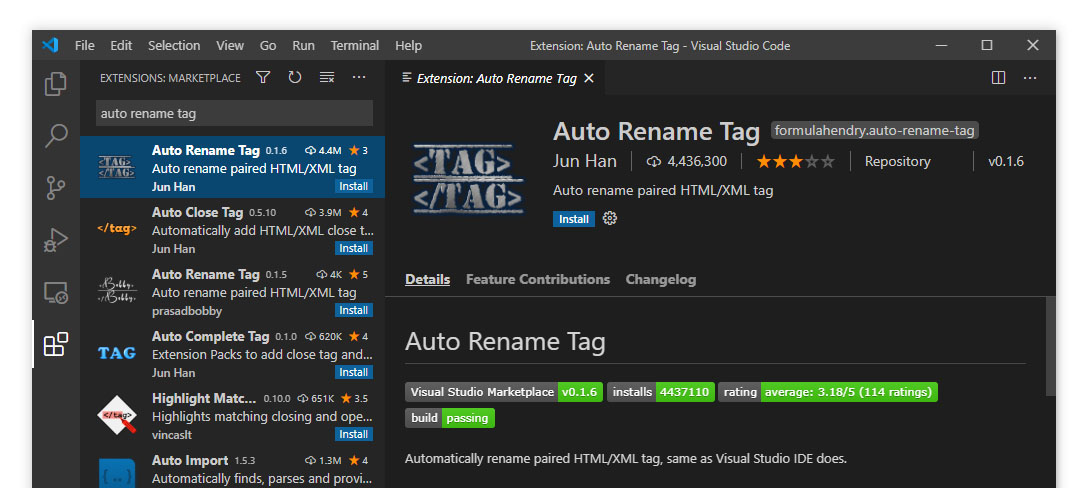 At the time of writing, the Auto Tag Rename extension was at version 0.1.6 but pretty popular having almost 4.5 million downloads. The rating was 3 out of 5 stars.
Auto Close Tag extension
Auto Close Tag is a VS Code extension also made by Jun Han. As its name implies, it automatically creates closing HTML/XML tags.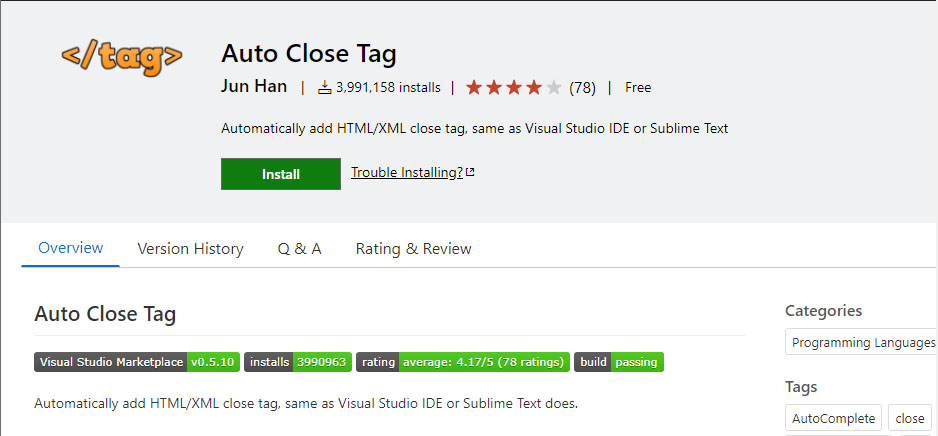 At the time of writing, this extension was at v0.5.10, had almost 4 million downloads and a 4-star rating.
SVG Previewer extension
For those using SVG files in the web designs, the SVG Previewer extension comes highly recommended. This extension, made by Vitalii Mazurenko, add the ability to Visual Studio Code to generate a resizable preview of SVG files.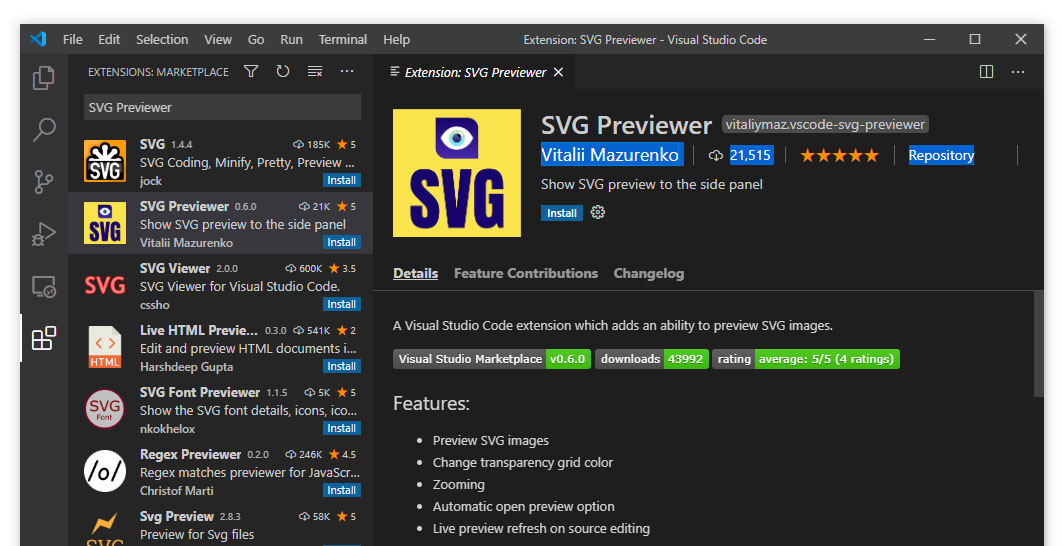 The default opening action of SVG files shows their code in the Editor section of VS Code. SVG Previewer adds a little icon on the top right corner of the Editor section that generates the image in a separate window.
At the time of writing, the SVG Previewer extension was at version 0.6.0, had over 20 000 installed and a five-star rating.
Conclusion
Even though Visual Studio Code is meant to be limited with its features, it packs a punch with some great, free and useful third-party extensions. Web developers have many great extensions that can make projects easier and more efficient to code.