Published: 28 February 2016
by
Last updated: 11 January 2019
MailChimp is an email marketing service supplier for small businesses. They supply easy-to-use, online tools that help users to send bulk emails to their accumalated audiences.
This is an ongoing post. Please suggest corrections, explanations, etc. in the comment section at the bottom of this page.
Apart from their fresh, clever, funky, modern and catchy branding, MailChimp also offers a great combination of online tools to helps website owners, bloggers and businesses to reach their audience by sending (bulk) emails. As stated on their official website, MailChimp started in 2001 as a small project that grew into a company that sends in excess of ten billion user emails out per month – the same principles they want their users to achieve.
MailChimp tools for bulk emails
After signing up for a free MailChimp account (see later), you will have access to dynamic email list building and maintenance tools, email templates, campaigns and reports. MailChimp also offers extensive website integration tools (WordPress is well supported with various good quality MailChimp plugins) and helpful onscreen guides for newcomers.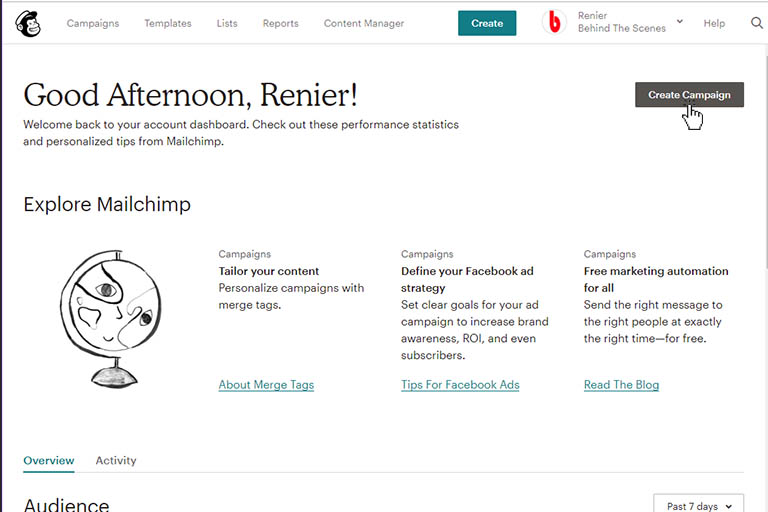 Lists
This is where all things MailChimp starts – an email List. Users need to supply or collect their own audience in the form of email addresses. MailChimp supports the latest international policies regarding the sending of emails. Spam is heavily frowned upon by MailChimp and adding unauthorised email addresses can lead to your account being suspended.
MailChimp offers various tools that help users to collect and store the email addresses. Depending on your needs, additional information such as surnames / last names, first names, birthdays, etc. can also be configured to be added to one of their various List building tools. Additional information fields can be used in Campaigns and Templetes (see below) to make emails a little more personal.
Templates
The MailChimp Templates section offers a vast amount of pre-built email templates for any type of email you can think of. Although these beautifully designed CSS templates are fully customisable, you can also build and save your own templates using their template codes and building layouts or use simple text email. Templates are to be used in your email sending Campaigns (see below).
Campaigns
MailChimp offers tools for various email Campaigns – ranging from manual communications to automated birthday and RSS feed emails. Campaigns use Templates and Lists to generate their content. Other mentionable campaign-related options include scheduling, social media integration and online storage of older campaigns.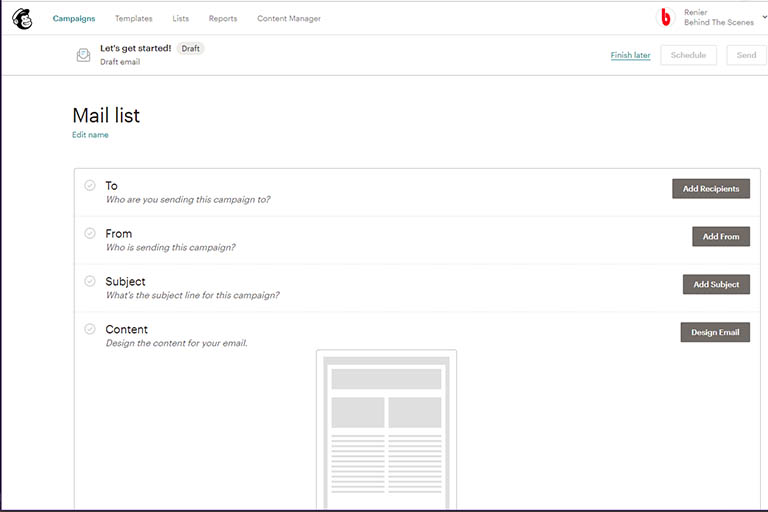 Reports
To assess the sucess of an Campaign or efficiency of a List, MailChimp offers an extensive set of statistics in the Reports section.
Lists can be monitored to see how often users, for example, open their emails and click on embedded links.
Free for small mailing lists
Free acounts include up to 2 000 emails in your email List(s) and up to 12 000 emails can be send per month. As your List expand, upgrade packages become available. They also offer other marketing packages.