One of YouTube's video upload licences is the Creative Commons licence. Here we outline the important things to know when using content marked with CC licences.
Introduction Creative Commons content on YouTube
One of YouTube's video upload licences is the Creative Commons (CC) licence. CC-licensed content has rules that allow it to be changed and reused. This post will outline the important things to know when using content marked with CC licences on YouTube.
It is well known (or should be) that if someone posts or uploads unique content anywhere on the internet, that content belongs to its creator. But what if the creator gives certain permissions to other people that make it possible to use that content for their own purposes?
By releasing content under a Creative Commons (CC) licence, certain permissions for other people are allowed. Creators can release their YouTube videos under a CC licence, making it possible for other people to reuse these videos in certain ways, but with certain requirements.
What is a CC licence?
Creative Commons (CC) (created by the non-profit organisation, Creative Commons) is a type of licence that can be applied to creative works (e.g. videos). Although the CC licences have variations, their aim is to be easy to understand by both the licensee and the licenced user.
By applying the most basic form of this licence (CC BY, Creative Commons by attribution) to a creative work, the original author allows other people to change or build upon this work and take credit for it, as long as attribution is given to the original author. It goes further to say that the work or derivative can even be used for commercial purposes.
This is, for example, in contrast with a full copyright licence, where no one is permitted to perform any change to, or use, the original work.
Other variations of the CC licences are:
Attribution ShareAlike (CC BY-SA)
Attribution-NoDerivs (CC BY-ND)
Attribution-NonCommercial (CC BY-NC)
Attribution-NonCommercial-ShareAlike (CC BY-NC-SA)
Attribution-NonCommercial-NoDerivs (CC BY-NC-ND)
In short, by applying a CC BY-NC licence, its users are allowed to use the content, but not for commercial purposes, applying a CC BY-ND licence prohibits users to change the content and CC BY-SA means the derivatives also need to be licensed CC BY-SA.
Although you can license your videos any way you want (see below), YouTube allows for the basic CC BY licence to be applied through its upload settings. Other video upload services might have similar licences for their creators.
Types of YouTube licences
While uploading a video to YouTube, one of two basic licences can be selected. They are the Standard YouTube Licence and the YouTube CC BY Licence.
The standard YouTube licence is like an 'all rights reserved' licence. Apart from granting YouTube the rights to display/stream your uploaded videos to its users, it forbids downloading, adapting, re-using and re-distributing them, except where otherwise licensed. This is also the default licence applied to videos.
The CC BY licence is intended for video uploaders to grant users the right to re-use their videos — the same as with any CC BY licence. This is as long as attribution is given to the original creator/author and as long as the video consists entirely of content created by the author or the author had full rights to use the content in the video. By uploading a video with a CC BY licence, YouTube will make this video visible through its filtering functions for users to discover.
If the creator wishes, any other licence can also be applied to their uploaded video. Let's say you want your video to have a royalty-free, public domain or even a CC BY-NC licence.
Technically it does not matter which YouTube licence is used, but in the first case, the uploader will choose the regular YouTube licence and in the last two cases the CC BY licence, after which the updated (or most authoritative) licence is communicated in the description section of the video.
If the licence communicated in the description is different from the YouTube upload licence, it will not be available in the YouTube search results.
From a video creator's point of view
There might be a couple of reasons why a creator might want to use a CC BY to license a video on YouTube.
Firstly, if the content used in the video was marked CC BY-SA, the re-use, and/or derivatives, of that content need to be licensed the same way. Some video creators might strategically license their content CC BY for other people to use them, and give attribution, thereby directing more viewers to their own video. Other reasons include simply being generous or ignorant.
As mentioned earlier, a video creator can license a video in any way he/she wants, but if you are happy with the basic CC BY licence, then it can be done during the upload process under the Advanced tab. Remember, to be able to license a video under CC, all the content of the video either needs to be your own and/or you have obtained the necessary permission to use and to freely distribute the content to others.
A question that is occasionally raised is: is it possible to withdraw a Creative Commons licence? According to the licence wording on the Creative Commons website, a CC licence cannot be revoked once it has been applied to a work. If you use a Creative Commons licence, make sure you're not going to change your mind in the future about giving everyone open access to your work.
From a YouTube viewer's point of view
Although it will go unnoticed in the majority of cases, the official YouTube licence is available for each video on YouTube. Some content creators look to YouTube to find CC videos and images for their own works. Many of these creators simply change the video in allowable ways and post them as new content on their own YouTube channels, while others use thumbnails or images from videos for pictures on their websites and blogs.
This is an example of a video made by combining videos that were marked with the YouTube CC BY licence.
https://www.youtube.com/watch?v=TMqOY_8-bHM?rel=0
Finding videos marked with the YouTube CC BY licence is easy. After doing a search on the topic you want, the filter icon, usually in the top left area of the search results, can be used to filter for Creative Commons.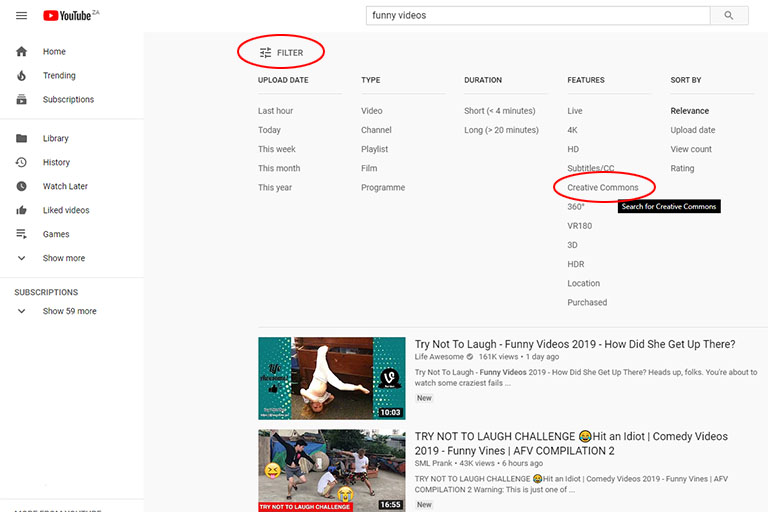 Various other search filters are also available.
The licence information for each video is also available at the bottom of the description section. When a video is assigned the Standard YouTube licence, there will often be no licence indicated. This means the author of the video reserves all rights to the video. When a video is marked as a CC BY, it will be communicated as such.
By using a simple search in Google, there are many websites that are capable of using a YouTube video URL to create a downloadable link to that video or its audio track. My favourite websites are YouTube to Mp3 and y2mate. A website like Thumbnail Save will only extract the video's thumbnail if that is what you're after. Free software such as Hitfilm Express can be used to edit videos and/or extract certain frames from downloaded videos.
Even though YouTube offers CC BY content, and even though they are marked as such by the video's uploader, it does not necessarily mean that the content of the video can be used.
As mentioned earlier, it also does not mean that the YouTube CC BY licence is the definitive licence of that video – the description still needs to be consulted for possible differences. For example, the video might be listed under the CC BY filter, but the description communicates that the author does not wish for the content to be used for commercial purposes (CC BY-NC).
When using CC BY videos from YouTube, users still need to ensure that the content of the 'original' video is not copyrighted to someone else. It is not uncommon for video creators to use other people's content without their permission and claim the video (or pieces thereof) as their own. Even if your source was marked CC BY, by using other people's copyrighted material can still be regarded as theft.
Probably the most important part of CC BY videos is that attribution needs to be given to the original creator (with a link to either their channel or the video). The Creative Commons licences stipulate that a link to the licence agreement also needs to be supplied. There are many ways to do this but to cover all your bases, it should preferably be done in the video itself and in the description section.
Remember that not all media devices (e.g. some smart TVs) are able to show descriptions of videos – in which case attribution should feature in the video itself. In the video material, attribution can be given in the credits section or while the content is playing. YouTube makes it easy to add text and hyperlinks to video descriptions.
Conclusion
Offers a basic CC-BY licence to be applied to videos while they are being uploaded. By using this licence, other content creators are allowed to use your videos as long as they give attribution.