Published: 20 August 2019
by
Last updated: 17 August 2020
Content creators are very often in need of images for their projects. This post lists some of my top sites for downloading free-to-use stock images for your content.
This is an ongoing post. Please suggest corrections, explanations, etc. in the comment section at the bottom of this page.
Before we start
The aim of this post is to list websites that host free-to-use images for content creators to download. In other words, images that have CC0 or public domain licences. When an author releases an image under a CC0 (Creative Commons 0) licence, the author basically releases all rights to that image. Licensees (users) are basically allowed to anything with that image, and they don't have to give attribution (although it will be highly appreciated). The same goes for public domain images.
Note: Before using any image from the internet, always make sure that the license is clearly identified and that it falls within the allowable scope of the way you intend to use the image. In most cases, mass redistribution of these images is not allowed.
Burst
Burst is a free stock photo and textures platform that is powered by Shopify. Their goal is to build the best free image library for entrepreneurs, so they are constantly uploading new photos and adding new categories to reflect current trends in e-commerce and retail. Most of the images are original photos that were taken in-house and are themed around trending business niches – everything from DIY beard oil to Aliexpress LED sneakers. You can also find more general photographs as well.
Some of the images on Burst are CC0 while others are released with a nonexclusive license. Users can still modify and use licenced photos with all the basic freedoms, but they bind the user to the Shopify/Burst terms of use. High resolution and low-resolution images can be downloaded without an account and no login is required.
Epicantus
Epicantus features free original photography by Daria (CC0). Although the website has not been updated since 2017, they still have a lot of nice hi-res photos.
Flickr
Flickr is a great way for people to share their personal photos and images. In contrast with other social media platforms, Flickr gives authors a clear way to lisence their images. Authors/users upload new photos every day and Flickr's search bar makes it easy to search for photos, people or groups. Google is also Flickr friendly.
Some authors will reserve all rights to their images while others will be kind enough to share under a CC0 or CC BY 2.0 license. To be able to use Flickr, you will need an account and login will be required before images can be downloaded.
Freestocks
Freestocks offers a collection of free, fresh, up-to-date, high-resolution stock photos. The website is maintained by a small team of three photographers that create and upload stock photos in their free time.
The photo collections are divided into several categories, such as people, nature, fashion, foods & drinks and more. You can also search for any given topic using a search box.
All photos on Freestocks are free and licensed under CC0. You can copy, modify and use them both in personal and commercial projects. Photos can be downloaded directed from images and no account or log in is required.
Good Free Photos
GoodFreePhotos.com is a large public domain photo repository with free high-resolution photos and vectors. Containing more than  27 000 files, images are uploaded by the webmaster and other people.
Images can be searched for using a search bar or ordered by category or latest uploads. Images can be downloaded directed from images and no account or log in are required.
Gratisography
Gratisography claims they have the world's quirkiest collection of high-resolution free stock images, comprised of the world's best, most creative pictures – images you just won't find anywhere else. The website offers a search bar and a basic category list for finding photos.
Although no specific /official licenses are mentioned, their license page says that you may use Gratisography pictures as you please for both personal and commercial projects. You can adapt and modify the images and get paid for work that incorporates the pictures. Anything except for illegal and dodgy projects. No log in or sign up is required to download images.
ISO Republic
ISO Republic (aka ShotStash) offers a broad range of free to use photos and videos. New images every day under a free for commercial and personal use license. The main page features a search bar and popular search categories. All categories and popular tags can also be accessed for more specific searches.
No account or log in is required to download images.
Jay Mantri
Once a week, Jay Mantri releases some really nice photos with a variety of of different themes. The website promotes "Free pics. Do anything (CC0). Make magic."
Kaboom Pics
Kaboom Pics offers thousands of pictures without any payment, even for commercial use. They have a wide variety of high-quality free stock photography including abstract, city/architecture, fashion, food, landscapes and more. The main page offers featured photos and a search bar for finding stock.
A nice feature is that photos come with a complementary colours palette. The palette is generated from the photo and comes with corresponding HEX colours. The palette can also be downloaded along with the photo. Feel free to use the palette in the same way you use our photos.
Each photo not only features a quick download button but can be downloaded in three different sizes – for free. No login or account is required for downloading images.
Life of Pix
Life of Pix is a resource created by the LEEROY creative agency offering free high-resolution photos and videos with no copyright restrictions. Photos can be downloaded using a quick download button, but photo pages offer tags to further filter your selection.
The main page offers a search bar and features the work of photographers of the week. No login or account is required to download images.
Max Pixel
Max Pixel, or Free Great Picture, is a website started in 2016 by a group of information technologists, photographers and enthusiasts with the aim of providing free images to the public. The site contains more than half a million free photos. Max Pixel offers a keyword search bar and filters for category, orientation, size and colour.
Some images are uploaded by their original author, but according to the Max Pixel Terms of Use policy, some images were sourced by their team and full permission has not been obtained. No account is needed to be able to download images, but the download process is unfortunately full of annoying, dodgy ads and Captchas. Make sure to never allow any popups (just click on the cross and keep on reloading the page). Adblockers will likely need to be disabled to be able to download images.
MMT Stock
MMT Stock is a collection of free high-resolution photos and videos provided by Jeffrey Betts. The website was launched in 2014 and since then, Jeffrey likes to share photos of computers and workspaces as well as flowers and nature, city scenes and macro photography. All photos are released under CC0.
Stock can be freely downloaded, used and redistributed for both personal and commercial purposes. Searches can be done using a search bar or by category, tag and colour. No log in or sign up is required to download images.
New Old Stock
New Old Stock offers vintage photos from the public archives free of known copyright restrictions. These photos are to the best of their knowledge available in the public domain based on the institution's participation in the Flickr Commons and the rules of Flickr Commons.
Although all photos are at the very least available for personal and non-commercial use, the owner of the website encourages users to "check the institution's rights statement through the link I provide to the original Flickr posting. Most prefer that you link back to the original Flickr photo and mention the institution by name."
Pexels
Pexels provides high quality and completely free stock photos licensed under CC0. They offer free images from their community of photographers and sources like Pixabay, Gratisography and Little Visuals.
Pexes.com is popularly used and recommended by web developers and video content creators for their superb quality and variation of stock photos. All photos are nicely tagged, searchable and also easy to discover through their discover pages. Members can follow their favourite photographer, but no registration is required to download images.
Picjumbo
Picjumbo is a free stock photo site created in 2013 by designer and photographer Viktor Hanacek. According to Viktor, Picjumbo is one of today's "best sites with free stock photos featured in the biggest online publications". They offer beautiful, high-quality photos that can be searched for by keyword, date and category. No account or login is required.
Apart from their massive free photo collection, Picjumbo also offers a premium subscription that will give access to exclusive Royalty-Free content.
Picography
Picography offers gorgeous, high-resolution, free photos that you can use however you like with their free, CC0 license. Stock photos are submitted by Dave Meier and various other photographers. The website has been operational for more than 3 years.
The main page offers a search bar and/or photos can be searched for by categories and tags. Photos can be downloaded without an account or the need to log in.
Pixabay
Pixabay is a vibrant community of creatives, sharing copyright-free images and videos. They have over a million high-quality stock images and videos shared by their community. Their images and videos as searchable using a search bar. Content can also be filtered by type.
All contents are released under the Pixabay License, which makes them safe to use without asking for permission – even for commercial purposes. Crediting isn't required, but linking back is greatly appreciated and allows image authors to gain exposure. Sign up is free, but images can be downloaded by size by simply completing a Captcha. No Captcha is required for registered users.
PxHere
PxHere is another image website that offers stunning CC0 images. The terms are quite simple – you can do with the image anything you want, as long as it is legal. PxHere offers a search bar and a tag system for finding images. Images can also be filtered using colours.
No account or log in is required for downloading images. Images can be downloaded in various sizes (selected during the download request).
Reshot
Reshot is a massive library of handpicked free stock photos you won't find anywhere else. Their website is built for startups, freelancers and makers who are sick of tacky stock photos. The main page features trendy photos and a search bar to look for your own.
Reshot grants you an irrevocable, nonexclusive copyright license to download, copy, modify, distribute, perform and use photos for free, including for commercial purposes, without permission or attribution. No login or account is needed to download images.
SkitterPhoto
SkitterPhoto offers a wide variety of free stock photos released under CC0 and public domain. Pictures are authentic and created by Skitterphoto's owners, but they also welcome photographers to sign up to release their photos.
The main page features admin picks and newest photos. Only after selecting a photo, the website search bar appears. Photo pages offer colour palettes and tags to use as filters. These pages also feature a lot of information about the photo (date taken, file size, etc.). Photos can be downloaded without signing in.
StockSnap
StockSnap's philosophy is to make it as easy and simple as possible to find, share and use amazing photographic imagery for any creative project. Hundreds of free high-resolution images are uploaded weekly by their online community and are all shared under the CC0 license. The website offers a search bar for finding the right image and no login or account is needed to download images.
Unsplash
Unsplash offers over a million free ("do-whatever-you-want") high-resolution photos offered by the world's most generous community of photographers. The home page features "the very best" photos and the site also offers a search bar and popular categories.
Unsplash grants an irrevocable, nonexclusive, worldwide copyright license to download, copy, modify, distribute, perform and use photos from their website for free. This includes use for commercial purposes, without permission from or attributing the photographer or Unsplash. Images can be downloaded without an account and no login is required.
Unsplash also has a mobile app version called Resplash.
Vectorportal
Repeatedly voted as top 10 free vector resource by various graphic design sites, Vectorportal creates free stock vectors which designers can use in commercial projects. In their copyright section, it is stated that watermarks can be removed before using the images. Vectors and clipart are selectable by category or can be searched for bu using their hue search bar.
Images can be downloaded without an account and no login is required.
Honourable mentions
Freepic
With its huge database of high-quality images, Freepic comes highly recommended by graphic designers. It is an awesome resource for backgrounds, logos, photos, PSDs and vectors. Most of the images on Freepic are for premium members only (paid subscription), and for the ones that are free, attribution is required.
Freevector
Freevector has tons of high-quality vectors that can be used for free in personal projects – as long as attribution is given). Commercial use is only allowed for premium members, which is a paid subscription.
How this list was obtained
Over the years, I've been using Google Image search to search for free-to-use images for my content. By using Google's filter options (situated under the Tools tab), images that can be modified and reused can be isolated.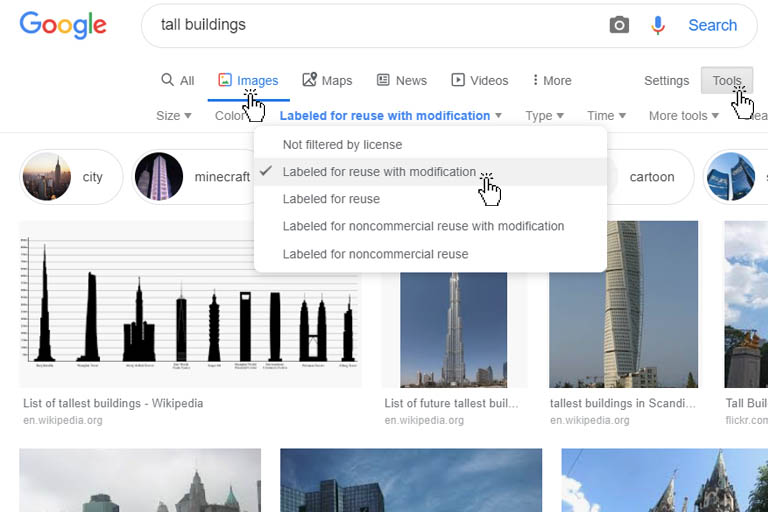 By clicking through to the website of these images, the top websites that host stock images for reuse were identified.
Some of these free-to-use images websites were also obtained as recommendations from other websites.
Anything else
Please let us know in the comments section below if you think we missed a free-to-use image website. We would like to add your favourite website too. Kindly also inform us if any of these websites were removed from the internet.