Published: 27 August 2018
by
Last updated: 3 June 2021
By installing a cooling fan on the TEVO Tarantula 3D printer, printing material such as PLA sets faster — ultimately improving its print quality.
For a quick introduction on how to install a cooling fan on a TEVO Tarantula, see the YouTube video below.
Introduction
The stock TEVO Tarantula does not include parts for a cooling fan (aka filament layer cooling fan or simply layer fan). In other 3D printers, this fan is typically situated on the extruder end. Softer materials, such as PLA, takes a little longer to set (cool down) and can easily bend upon adding a new print layer on top of it.
PLA that does not have enough time to cool down often leads to warping of prints — even more prominent in small prints and/or at high printing speeds. The quality of bridging can also be improved by allowing less time to sag.
The process of installing a cooling fan on a TEVO Tarantula is fairly easy and only a few parts are required: a cooling fan, a fan duct (3D printable) and 4 x 12mm M3 socket screws.
Apart from installing a cooling fan on a TEVO Tarantula 3D printer, there are also other upgrades to improve the quality of 3D prints.
Cooling fans
The first item required for this upgrade is the cooling fan itself. This layer fan is installed onto the extruder unit using a fan duct (see below) which allows the fan to be directed downwards onto the printing area.
There are two options when it comes to choosing a cooling fan for the TEVO Tarantula: 4010 brushless fan or a 5015 radial fan.
The TEVO Tarantula is powered using a 12V power supply, so the cooling fan needs to be 12V too.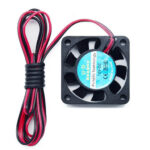 12V Brushless 4010 Cooling Fan
For TEVO Tarantula (40x40x10mm)
Replacement/upgrade fan for 12V 3D printer. Perfect for TEVO Tarantula. 40x40x10mm with 30cm wire.
Available from BangGood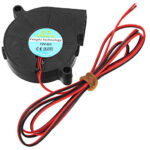 12V Radial 5015 Turbo Blower Cooling Fan
For TEVO Tarantula (50x50x15mm)
Generic replacement/upgrade fan for 12V 3D printer. Perfect to improve printing stability and warp 3D print of TEVO Tarantula. 50x50x15mm with 30cm wire.
Available from BangGood
In the case where a MOSFET has been installed, the 40mm fan situated on top of the mainboard can be temporarily relocated for this purpose. I also managed to use salvaged and spare screws from the stock Tarantula. All the original screws with the Allan key can also be used.
The fan duct
The fan duct is where the fan will be mounted to. A working solution for me was an appropriate model from the LPA FanDucts for Tevo Tarantula – v4.0 (recently upgraded to v5.0) done by Elzariant. It contains a set of fan ducts suitable for various versions/setups of the TEVO Tarantula.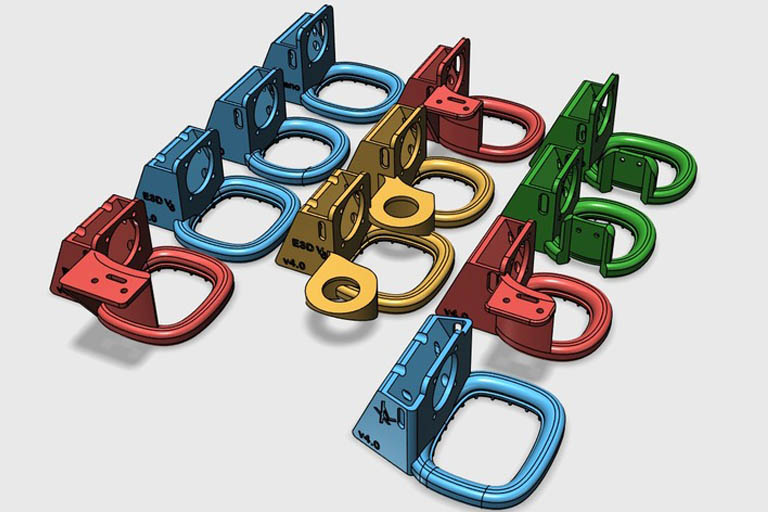 The download file contains model options for different sized ducts, single or double extruders, attachments for an auto leveller and different fan sizes. All these models are installed on top of the current extruder fan.
3D printer accessories
To get started with the TEVO Tarantula or other 3D printers, you might need some of the following accessories.
Please support us by using these links - they come at no additional cost to you, but we get a little commission each time they are used. These and others are available from Amazon.com and BangGood.
We have tested most of these products ourselves. Other selection criteria include affordability, quality, availability and average user rating and popularity by other buyers.
Links will open in a new window. (Dead or old links can be reported in the comments section below.)
Other featured Products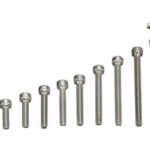 Suleve M3 Stainless Steel Socket Machine Screws (variable sizes)
6mm-40mm, 20pcs each, nuts & Allen keys, total 442pcs
442pcs. Suleve M3 stainless steel hex socket machine screws assortment kit. 20pcs. x 6mm, 8mm, 10mm, 12mm, 16mm, 18mm, 20mm, 25mm, 30mm, 35mm, 40mm and M3 nuts. Incl Allen keys.
Available from BangGood
Related products
Conclusion
3D prints with the TEVO Tarantula can be significantly improved by installing an additional cooling fan on the extruder end.
Fan parts are easily obtainable and the fan duct can be 3D printed using the TEVO Tarantula itself. To get started no additional parts have to be ordered, but parts used need to be replaced over time.
Behind the Scenes is a free, informative website. If you find value in any of our content, please consider making a donation to our cause.

Save, share & discuss
Your comment is important, but don't be a knob. Keep it constructive and polite.
More 3D printing related posts