Published: 22 September 2015
by
Last updated: 14 April 2017
The older Raspberry Pi B models come standard with 4 USB ports. Even so, it only has one root USB port where all traffic is funnelled too. It operates at a maximum speed of 480mbps (USB 2.0).
Raspberry Pi USB port speed
Global USB specification defines three device speeds –- low-speed (USB 1.1 – 1.5mbps), full-speed (USB 1.1 – 12mbps), and high-speed (USB 2.0). The Raspberry Pi defaults to high-speed.
It is said that there are generally no issues with connecting multiple high-speed USB devices at the same time, but my own experience tells me that there are soft limitations on the number of simultaneously active low- and full-speed devices.
Changing the port speed
In some cases one might need to change the USB port speed for older hardware to full-speed (i.e. USB 1.1) use:
sudo nano /boot/cmdline.txt
and appending the following:
dwc_otg.speed=1
to the very end of the line.
Power requirements
Another important thing about the Raspberry Pi USB ports is that they will only supply 100 mA per port.
This means that "low-power" devices like USB drives, keyboards and mice will work sufficiently, but if you start to get abnormal behaviour, like devices stopping without a reason, brownouts and/or unexpected resets, you should probably get an external USB hub with its own power supply.
Devices such as Wi-Fi adapters, USB hard drives and USB pen drives are known to consume much more than 100mA. It is also noteworthy that in order to supply even low-power devices with sufficient current, the Pi should also be supplied with a proper power supply.
The people at the Raspberry foundation recommends 5V with at least 1.2A (1200mA).
5V 2.5A Power Supply With On/Off Switch (US, EU)
For Raspberry Pi 2/3
Input 100-240V AC. 75x41x29mm. Micro-B USB connector.
Available from BangGood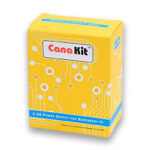 CanaKit 5V 2.5A Raspberry Pi 3 B+ Power Supply (US)
For Raspberry Pi 2/3
UL Listed. Input >100V AC. 3.75 x 2.75 x 1.25 inches. Micro-B USB connector.
Available from Amazon.com
Official 5.1V 3A Raspberry Pi 4 Power Supply (US)
For Raspberry Pi 4
UL Listed. White. Input: 100-240V 50/60Hz 0.5A, Output: 5.1-3.0A. 3.27 x 2.4 x 1.93 inches. USB-C connector.
Available from Amazon.com
Effect of overclocking
I have heard somewhere that when the Raspberry Pi is overclocked, it will supply less Amperage.
The Raspberry Pi
To get started with the Raspberry Pi you will need the following:
Please support us by using these links - they come at no additional cost to you, but we get a little commission each time they are used. These and others are available from Amazon.com and BangGood.
We have tested most of these products ourselves. Other selection criteria include affordability, quality, availability and average user rating and popularity by other buyers.
Links will open in a new window. (Dead or old links can be reported in the comments section below.)
Behind the Scenes is a free, informative website. If you find value in any of our content, please consider making a donation to our cause.

Save, share & discuss
Your comment is important, but don't be a knob. Keep it constructive and polite.
More Raspberry Pi and microelectronics related posts