Published: 20 March 2021
by
Last updated: 27 March 2021
Barlow is a low-contrast, sans serif type with slightly rounded edges. With its tallish letters, it resembles the visual style of the Californian public.
Introduction to Barlow
The Barlow typeface is described as a slightly rounded, low-contrast, grotesque type family. The lead designer of the Barlow project, Jeremy Tribby was inspired by California's public plates and signs.
Based in San Francisco, USA, his work clearly shares qualities with the state's car plates, highway signs, busses, and trains.
Barlow is named after internet pioneer, EFF co-founder, songwriter, and activist John Perry Barlow. This was in tribute to his lasting impact on the information superhighway.
In the spirit of its name, Barlow is part of the Google Fonts free licenced font families and APIs for use with CSS and Android.
The Barlow superfamily
The Barlow typeface consists of three families: normal, condensed and semi condensed. Each family has 9 weights in Roman and Italic.
Being a low-contrast and tall type, Barlow does well when decreasing its tracking.
The family includes 54 manually-hinted styles in three widths and nine weights, as well as obliques, suitable for large and small digital and print use. Customizable weights and widths are available via the included variable font (GX) file.
Uses of Barlow
For me, Barlow is a tall, stylish, yet friendly typeface and is a good representation of California's friendly beaches, trees, bright attire and nightlife.
Having 54 styles, Barlow can be used in various ways. The Barlow family will work well as a display type and a body type. It is suitable for large and small digital and print. All caps or sentence caps will work.
As concluded from its inspiration, the Barlow font family might also work well when designing Californian plates and signs.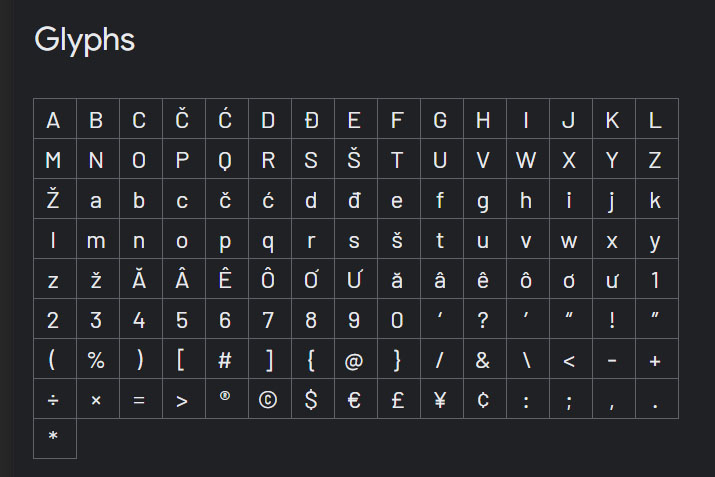 Not being sure why it is described as Grotesque, but as sans serif, Barlow is more modern but less sophisticated.
Using Barlow fonts
The Barlow type can be used as fonts in a couple of ways:
As an OpenType or TrueType on a device
As a Webfont on a web page
As a remote font from Google Fonts
Using Barlow on a device
To be able to use Barlow as a font on a device its OpenType or TrueType font files need to be downloaded and installed.
At the top of its Google Fonts page, the Download Family button can be used. This will conveniently download the superfamily (normal, condensed or semi-condensed) as a .zip file.
After opening the downloaded file, each of the fonts can be installed manually by using the Install button at the top of the font installation box.
Using Barlow as a Webfont
To be able to use Barlow as a Webfont, it needs to be converted to its file extensions and referenced using the stylesheet.
A popular service like Simple Online Web Font Converter will do the conversion and generate the CSS values during the font conversion process.
Using Barlow from Google Fonts
Although not as fast as hosting Webfont files locally on a web server, Barlow can also be used on a web page by referencing it from Google Fonts.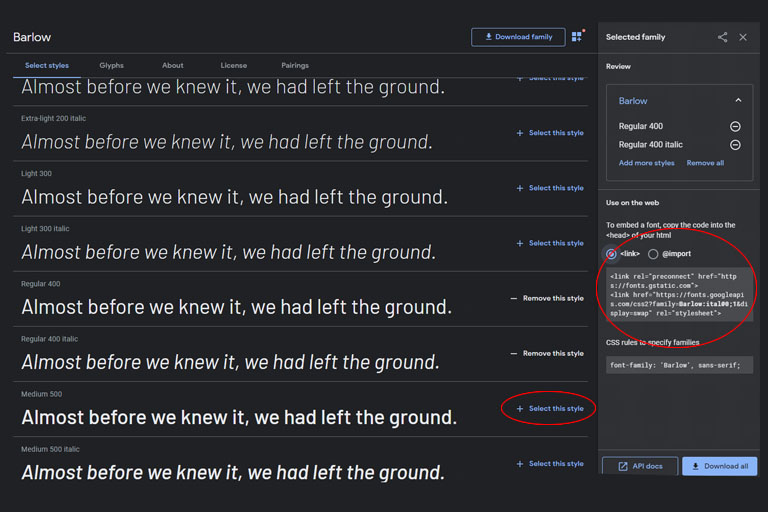 After choosing the desired style(s), it can be incorporated using the HTML link tag or CSS @important rule.
<link rel="preconnect" href="https://fonts.gstatic.com">
<link href="https://fonts.googleapis.com/css2?family=

Barlow:ital@0;1

&display=swap" rel="stylesheet">
Barlow can then be used using the CSS font-family rule
font-family: 'Barlow', sans-serif;
Barlow type licence
As with all Google Fonts, Barlow is licensed under the Open Font License (OFL 1.1)
It can therefore be used freely in products & projects — print or digital, commercial or otherwise. The Open Font License disallows the selling of fonts.
Similar types to Barlow
Barlow shares a lot of similarities with the DIN typeface, a premium font that was originally made to conform to industrial standards.
When comparing Barlow and DIN side by side, Barlow has wider characters, shorter height, and rounded corners. Both these fonts are very useful since they come in many different styles.
Popular pairings with Barlow
According to Goog Fonts, Barlow headings pair well with Lato, Barlow Condensed, Archivo Narrow, Fira Sans and the popular Roboto.
Contribute to the Barlow project
Looking at the Barlow project Github page, Barlow started around 2017. At the time of writing this post, the latest addition to the project was adding Vietnamese.
Because of John Perry Barlow's lasting impact on the information superhighway, please consider making a donation to the Electronic Frontier Foundation in his memory.
Conclusion
The Barlow typeface is a free, low-contrast, sophisticated, yet friendly type that is slightly rounded. It was named after John Perry Barlow and is available for free from Google Fonts.
With its tall lettering and multiple families, Barlow will work well as a display type, body type or projects that want to convey the friendly style of California. Barlow also plays well with various other types.