Published: 21 August 2020
by
Last updated: 27 August 2020
To make life a little easier there are various online colour palette pickers and colour generators to help designers choose colour combinations for their projects. This post lists some popular ones.
Introduction
Colour schemes (or colour combinations) are groups of colours that work well together – e.g. they are in harmonic balance and based on colour theory. Colour palettes, on the other hand, refers to the actual colours, e.g. by name, RGB, CMYK or a hex value, that are being used.
All the websites mentioned in this post will result in one or other colour palette. Some will use colour theory based on a primary colour to determine them, while others will use randomness and choice.
Websites are ordered alphabetically.
Adobe Color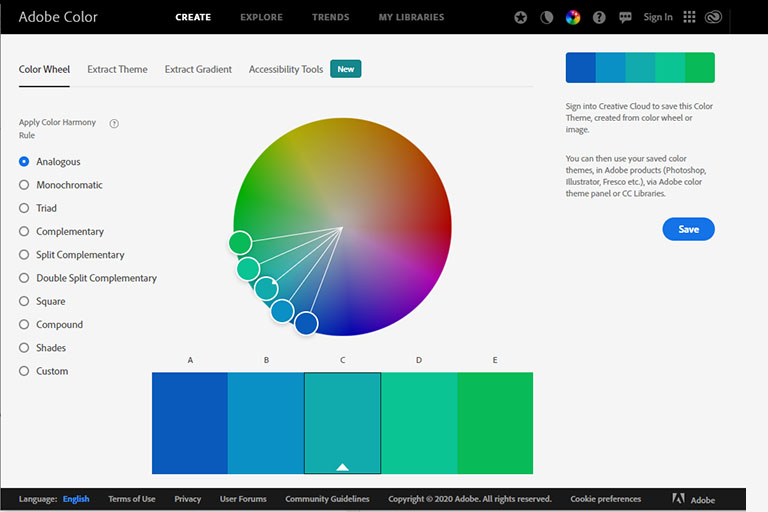 Adobe offers a free service, called Adobe Color (previously called Adobe Color CC), where a primary colour can be combined with other colours.
Tools include the Color Wheel, Extract Theme, Extract Gradient and Accessibility Tool. The Colour Wheel tool uses a colour picker, based on all the colour schemes one can think of. The Extract tools use images to extract colours from, and the Accessibility Tool identifies colour blind safe colours.
After making your selections, colours can either be saved locally by using their hex values, RGB, CMYK and other colour models or can be saved to your Adobe account.
The service is free to use and no login is required. An account is required to be able to save colour schemes.
Color Supply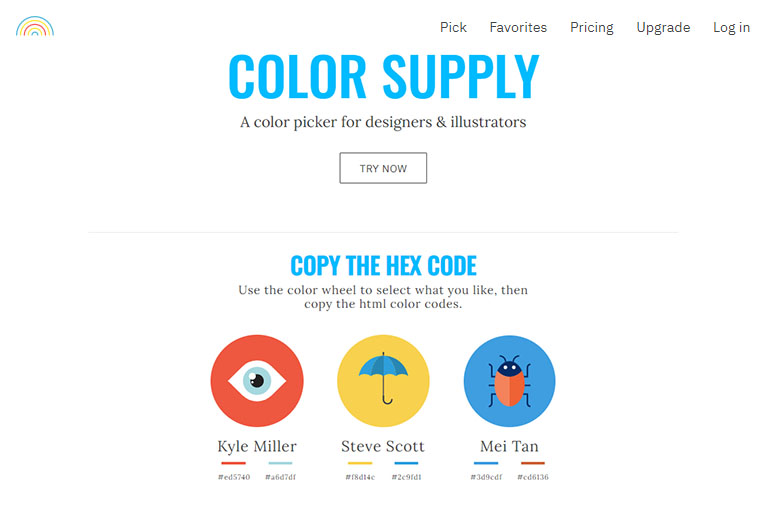 Color Supply (colorsupplyyy.com) helps people generate and select unique colour palettes for their website. The website offers colour schemes created by its panel of selected artists. Who's better than an actual artist at picking colours that work well together, right? After the desired colours are combined, they can be saved locally by using their hex values.
Their continued services are not free though. The first 10 sessions are free, but thereafter a payment plan needs to be selected.
Coolers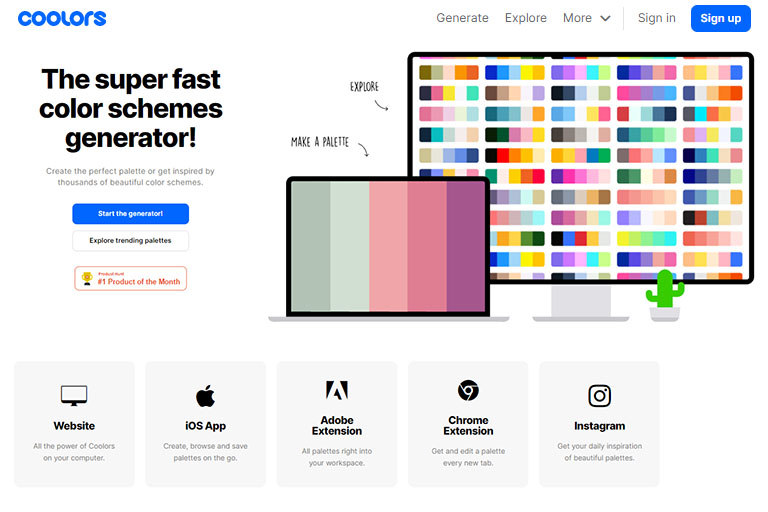 Coolors is a random colour scheme generator based on user input. Their colour picker will generate random colours for you to choose from and then based on that choice, will continue to generate matching colours to ultimately create a unique colour scheme. They also offer an option to explore trending colour palettes. Colours are saved locally by copying their hex values.
Flat UI Colors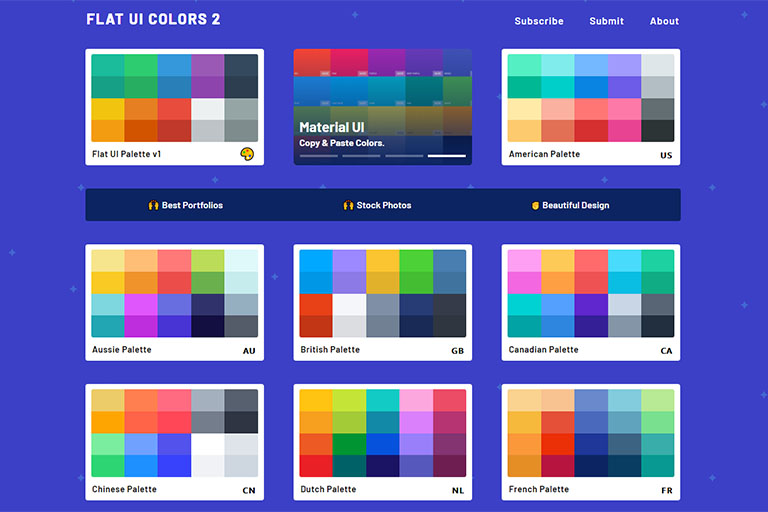 Flat UI Colors is a simple to use website that offers pre-made colours schemes. Simply pick the colour scheme by name (named after countries) and copy and paste the desired colours. Colours are saved locally by copying their hex values.
Paletton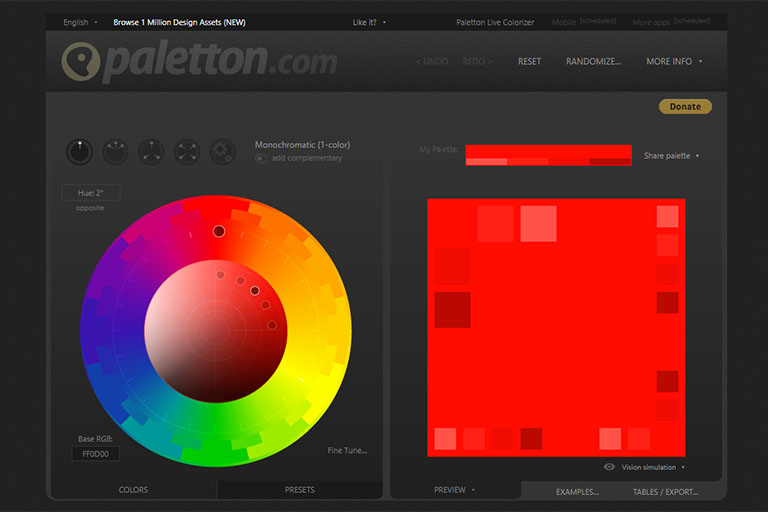 Paletton offers a great colour picker based on a primary colour and monochromatic, analogous, triadic and tetradic colour schemes. After the colour palette has been established, Paletton offers the most comprehensive ways to export the colours locally.
It is a free service that uses donations and ads to earn income, so make sure ad blockers are disabled when using their service.
Palette
Generator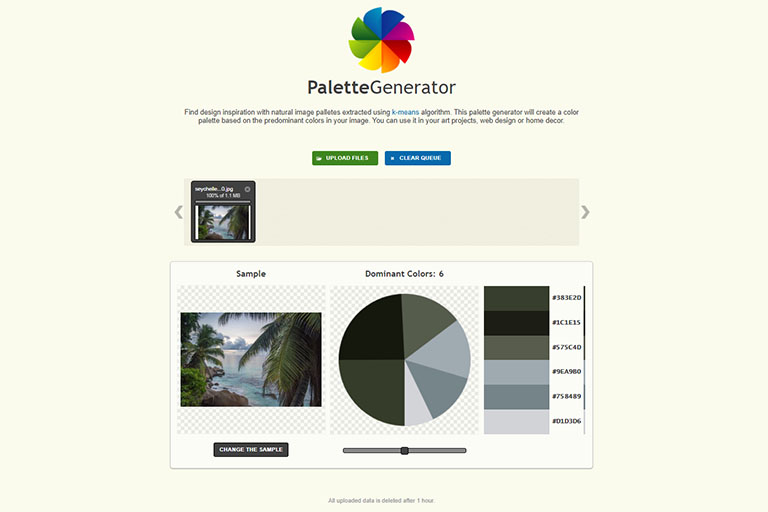 Palette Generator creates colour palettes based on images. After uploading a custom image, they will generate a natural image palette based on its predominant colours. Their service utilizes the k-means algorithm. Colours are saved locally by copying their hex values.
Conclusion
There are various websites that can help designers to come up with a colour palette for their projects. While some are as simple as choosing a palette, others are more complex, but more robust in being able to incorporate desired colours in them.