Published: 10 November 2018
by
The SAMSON Meteor Mic is a very popular, USB Studio Condenser Microphone. It is a great microphone for non-professionals and is perfect for recording sound for YouTube videos, podcasts, games, streams and video chats.
Introduction
The SAMSON Meteor Mic is a condenser microphone (commonly found in studios). With its large 1″ / 25 mm diaphragm condenser it has a 20Hz – 20 kHz frequency response. This means that it has a much greater frequency response, a louder output, more sensitivity and a transient response when compared with, for example, dynamic microphones.
Being a unidirectional microphone (also known as a cardioid microphone), the SAMSON Meteor Mic is good at rejecting sounds from other than the front direction. This makes them great to be used as vocal or speech microphones.
The SAMSON Meteor Mic and various accessories are available from Amazon.com.
Inside the package
The package included the SAMSON Meteor mic, the instruction manual, a 6 ft / 2 m Micro-B USB cable, travel pouch, online product registration instructions and an introduction to the SAMSON Sound Deck noise cancellation software.
For a quick unboxing and introduction, also refer to the video below.
Appearance
The most striking feature of the SAMSON Meteor Mic is its exterior. The standard chrome version (there are also Titanium Black and Chrome Nickel versions) has a sexy, shiny metal appearance.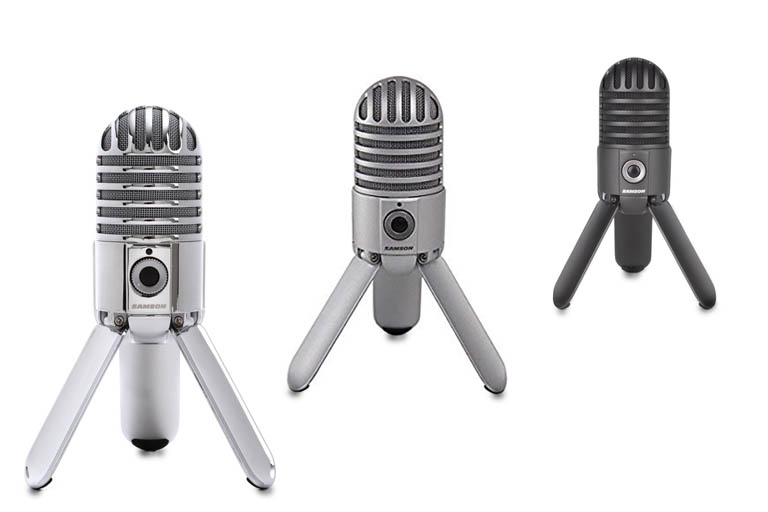 The mic also has a nice, heavy feel to it. The body is 2 x 5 inches / 5 x 10 cm and with the legs unfolded it stands 5.9 inches / 15 cm high.
Other features
Large diaphragm
Intelligent LED
Headphone mute button on front
3.5mm headphone jack on the back
Microphone stand connector on the bottom
Built-in tripod legs with rubber feet